Chocolate Energy Balls
Full of dates, cocoa powder and dry fruits and nuts, these snacks you can feel good about (and they take less than 30 minutes to make!). Vegan, raw, paleo and free of grains and processed sugars.
Submitted by: Ksenia Prints
Ingredients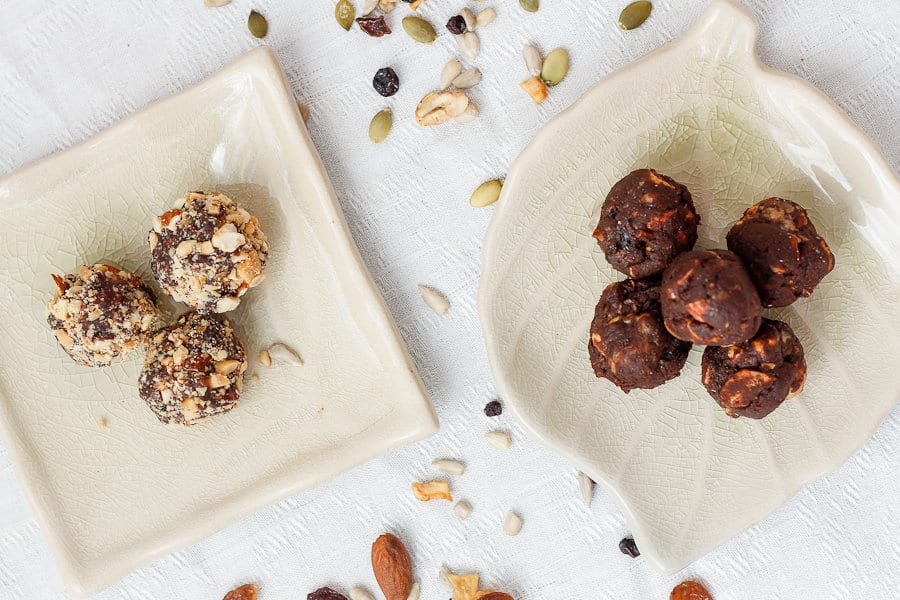 7 Mejdool dates
2 tbsp lemon juice
2 tbsp tahini (I imagine coconut oil would also work here)
1 cup of naturSource 4 tbsp cocoa powder
1 tsp vanilla extract
A sprinkle of sea salt
4 tbsp finely crushed nuts or 2 tbsp sesame seeds, cocoa powder or shredded coconut, for covering
Soak dates in hot water for 10 minutes, to soften. Remove flesh from pit, and tear into pieces (discard pit). Chop naturSource Voyageur® Ultra nut mixture into small fine pieces.
In a bowl, mix dates, lemon juice, tahini and the chopped nuts from the naturSource Voyageur® Ultra nut mixture, mashing everything with a fork. Add in cocoa powder, vanilla extract and sea salt, and stir well to combine. Taste – if you feel like you want a more chocolaty flavour, add a bit more cocoa.
With wet hands, form mixture into balls (small balls are preferable, and they work well as healthy truffles; bigger balls are more substantial energy treats). Roll in crushed nuts, sesame seeds, cocoa powder or shredded coconut.
Refrigerate. These chocolate nut energy balls will keep in the fridge for a week. Stored in the freezer they will last a lot longer and you will always have some on hand for that special nosh….
A little bit about the author:
After finding that a career in journalism and political writing just wasn't filling her up, Ksenia Prints decided to sink her teeth into cooking, baking, and food writing. She blogs, photographs and creates all content over at http://immigrantstable.com, where she details her allergy-conscious attempts to recreate and adapt her family's migrant kitchen.