Potato latke topped with egg, kale, tomatoes and Tamari® almonds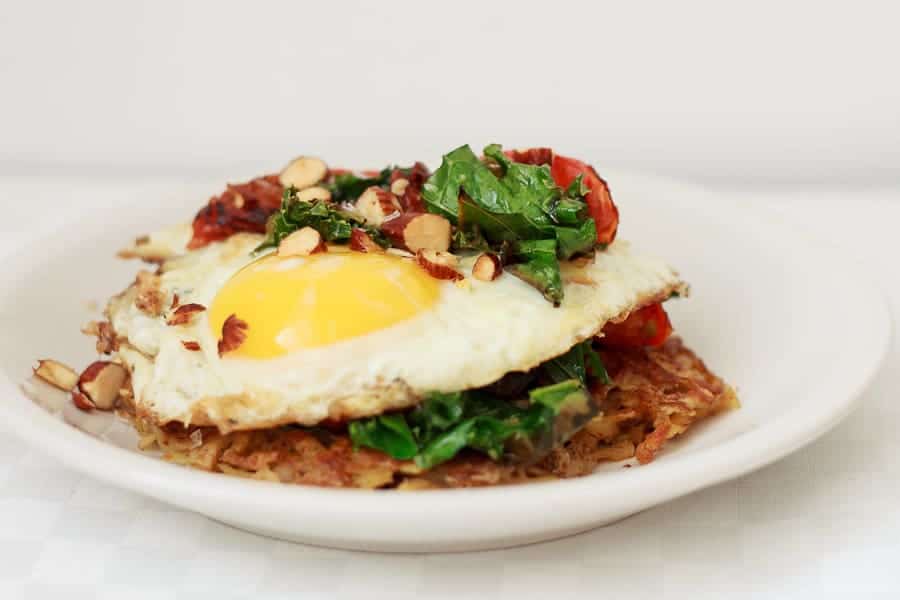 A delectable dish that tops a crispy latke with a perfectly cooked egg, juicy tomatoes, and naturSource® Tamari almonds. Serve this for a Hanukkah brunch or for a regular weekend. The latke can be made out of potatoes, sweet potatoes, or a mix of spuds.
Submitted by: Ksenia Prints
Serves: 2
Ingredients
Latkes:

2 potatoes (or more, one per person)
½ tsp paprika
2 tsps canola oil
1 tsp nutritional yeast
¼ tsp of salt

Topping:

2 eggs (or more, one per person)
2-4 leaves of kale, depending on the size
½ cup grape tomatoes, or one regular tomato
¼ cup naturSource

Tamari® almonds
Instructions
Preheat a non-stick pan to medium heat.
Chop kale to thin strips. Chop naturSource Tamari® almonds into bite-sized pieces, trying not to eat them all as you go along. Halve grape tomatoes (or cut regular tomato into wedges). Set each ingredient aside.
Grate potatoes, and squeeze out the water. Mix well with paprika, canola oil, nutritional yeast, and salt. Shape into two large, thin latkes.
Add one tablespoon of oil to pan, and add latkes to pan. Fry for 2-3 minutes on one side, until potatoes are golden-brown. Reduce heat slightly to medium-low, and turn latke over. Fry on the other side for 3-5 minutes. Remove, and let rest on paper towels.
Next, fry up the kale with a tad of water on medium heat until it wilts, stirring often, for about 5 minutes. Clear an area on the pan for the tomatoes, add them, and let them fry, face down, for another 3-5 minutes (If using wedges, turn wedge over again and let the other side fry for another 3 minutes). Remove from pan, and cover to keep warm.
Cook your eggs to your liking – sunny side up, scrambled, or poached will all work here.
Plate your dish: first the latke, then a bit of kale, then the egg, followed by more kale and tomatoes, and a sprinkle of salt. Top the dish with chopped naturSource Tamari® almonds and a bit of hot sauce. Serve, and enjoy!
A little bit about the author:
After finding that a career in journalism and political writing just wasn't filling her up, Ksenia Prints decided to sink her teeth into cooking, baking, and food writing. She blogs, photographs and creates all content over at http://immigrantstable.com, where she details her allergy-conscious attempts to recreate and adapt her family's migrant kitchen